---
Craft tutorial: Make a cup from origami paper
4019 Views 07 Jan 2021
Hello everybody!
This time you want to share the procedures for making crafts for all of you.
The craft we are going to make today is a cup made of colorful paper, aka origami.
First of all, let's prepare the tools and materials:
Origami paper

Paper glue

Scissor
Are all the tools and materials ready?
Let's immediately make the pre-work!
First of all, let's fold the origami paper in half!
Then, fold the fold back in half so that the origami paper is divided into eight.
After that, the paper is opened and again folded three times sideways, leaving a white part.
Let's count together! 1, 2, 3!
If so, there will be a colored part and a white part. So, we cut the white part along the line, as shown in the picture.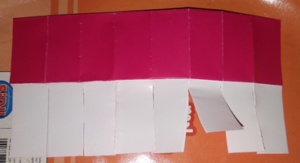 Now we apply glue to both the right and left ends of the paper, but only on the colored part.
Then we fold the paper to form a circle.
Then, the parts that have been cut are also put together with glue so that they can become the bottom of the glass.

When the glass is finished, you can add handles and decorations to the glass.
Isn't it easy to make paper cups?
Good luck, brothers!
Oh yeah, if you want to learn more about how to make other crafts, you can take part in the daily program which is held every day at the nearest kidzooona branch!
---